OMC: Supply-side questionnaire open!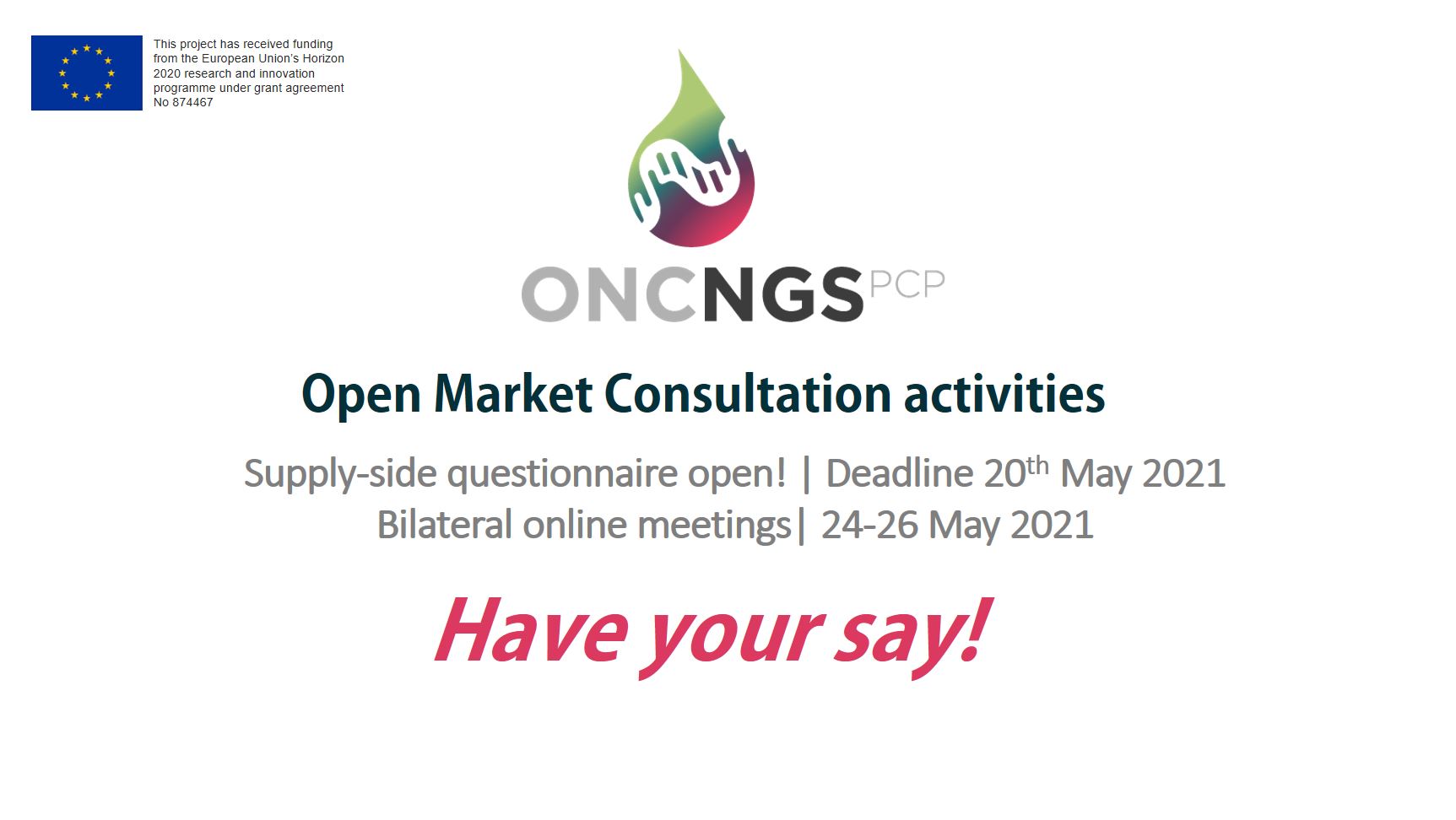 2021-05-15
As foreseen by the oncNGS Open Market Consultation, A questionnaire has been opened online on the oncNGS website as from May 13th 2021 and will remain open till May 20th 2021 (deadline for questionnaire completion).
This questionnaire has been prepared to better understand the market maturity to satisfy the desired common minimum requirements, the regulatory & standardization environment, the market readiness to realistically address buyers business case and accept the envisaged contracts set-up.
Besides, if you would like to find partners for the oncNGS tender, you can use this questionnaire to form Consortia by completing the section "Partner search". By doing so, you are granting oncNGS the right to share the questionnaire information publicly in the oncNGS website so that other potential vendors can contact you.

Participating economic operators willing to supply confidential information are required to indicate what specific information must be treated as confidential.
Who can answer the questionnaire?
Any supply-side organisation is welcomed to fill out the questionnaire. Prior to answering to the questionnaire, we kindly advise to review the videos and the slides shared during the OMC events and made available here.
How much time will it take to complete?
It will take 30 min approximately.
For how long will the questionnaire be available?
The OMC questionnaire will be opened from May 13th 2021 til 20th 2021.

What information is requested?
Respondent information: your organisation and contact data

oncNGS challenge: your opinion about the scope of the oncNGS project and what you can offer

oncNGS Pre-Commercial Procurement (PCP): your opinion about the budget, timing of the Pre-Commercial Procurement

Partners search: your organisation information to look for partners
Bilateral Online meetings:
The questionnaire offers to each respondent to book an online meeting with the oncNGS consortium on a first come first served basis.
The bilateral interviews will be held with the unique purpose to offer the economic operators to explain more in detail their responses to the questionnaires. The interview can take place from May 24st to May 26th 2021, between 10am – 1pm and 2 – 6pm.  The interview is limited to 30 min per economic operator.
Please note that this is pre-tender engagement with the supply chain. It is not, in any way, an assessment or evaluation of suppliers.